At King Henry VIII, we give everyone the opportunity to develop their academic potential to the full while playing an important role in developing the whole school community. Our commitment to 'achieving personal bests' underpins all that we do, academically and pastorally. We believe our students are role models, and a position on our Student Leadership Team is the ultimate opportunity to demonstrate this ethos while giving back to our school and wider community.

The student council at King Henry VIII Senior School holds significant importance as a vital platform for student voice, leadership development, and fostering a collaborative school environment. Composed of elected representatives from various year groups, the student council serves as a powerful vehicle for students to express their opinions, concerns, and ideas. It acts as a conduit between the student body and the school staff, ensuring that student perspectives are considered in decision-making processes.

By actively involving students in shaping school policies, organising events, and initiating positive changes, the student council empowers students to become active participants in their own educational experience. Moreover, serving on the student council provides invaluable opportunities for leadership development, teamwork, and communication skills, equipping students with the abilities they need to make a positive impact both within the school and beyond. The student council is an essential component of a vibrant and inclusive school community, fostering a sense of ownership, engagement, and collective responsibility among students.
The organisational chart gives an outline of the positions available, these roles are subject to change as we develop and grow as a school.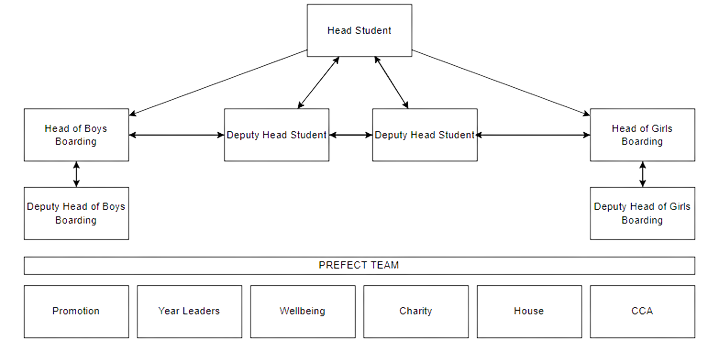 The school is active in undertaking charity work. The charity committee club regularly organises fundraising activities to benefit those less fortunate, or raise awareness of important issues.

Within the school community, students in the Sixth Form are expected to complete service through the school council in support of students in Early Years, Primary or Senior School.